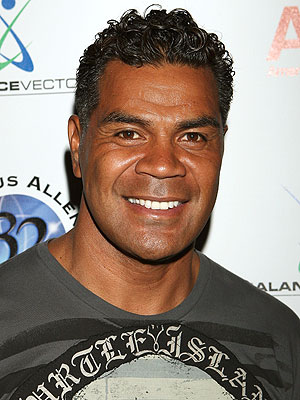 12-time pro bowler Junior Seau who passed away yesterday at age 43
Junior Seau is dead,
apparently
by his own hand. Jonathan Vilma is suspended for the entire 2012 NFL season because of his role in the Saints bounty program. And these two stories, which broke yesterday, are inescapably connected to the culture of a sport that glorifies violence to a point that our society clearly doesn't care to know about.
To understand where this is all stems from, we have to go back to February 2011. That's when former NFL safety Dave Duerson committed suicide with a gunshot wound to his chest. To his chest, not his head. He spared his brain after sending a text message to his family asking that it be used for research in a study on chronic traumatic encephalopathy, or CTE, which is believed to be a side effect of playing professional football. Less than three months after his suicide, doctors confirmed what Duerson had already known for years; that he suffered from a neurodegenerative disease that has been linked to concussions.
I'm not saying Junior Seau was suffering from CTE. I'm not assuming the only reason he's dead right now is because he played 20 years in the NFL. I'm simply playing connect the dots. That Seau's career in the NFL, which presumably consisted of numerous concussions that went undiagnosed at the time, caused trauma to his brain. That the same trauma caused Dave Duerson to suffer from a brain disease which ultimately ended in him taking his own life. Now, Seau has taken his own life in an eerily similar fashion.
How does this connect to the Saints bounty program and Jonathan Vilma being suspended for an entire season? While former NFL players can barely walk
or are suffering from degenerative brain disease to the point where they're committing suicide, the Saints were offering incentives for their players to intentionally injure other players. (I think it's important to remember that when their careers are over, all of these guys will be in the same group – former NFL players.) Commissioner Roger Goodell had to come down as hard as he possibly could on anyone involved in what was going on in New Orleans, and that includes Vilma. He had to make sure that this kind of thing never, ever happened again. It's embarrassing for the NFL's image, yes, but more importantly, people's lives are clearly at stake. Read that again. People's lives are at stake. It's not an exaggeration, do the research on retired NFL players. The culture of the NFL has gotten to the black and white point where if you're not a "tough guy" who plays through every injury, then you're labeled as soft. And you'll be called that by your teammates every single day. There's no longer a gray area. Because of this, players won't leave a game when they're "woozy" or have had "their bell rung." They have to be tough; they have to be a warrior. They have to show that they're the true definition of a man. If you're worrying about your future while playing in the NFL, you probably wouldn't be playing in the NFL.
This is the mentality that's
ingrained
into the culture of the league, and Goodell knows it has to be changed for the livelihood and safety of the players. If we could have asked Dave Duerson or Junior Seau if they
would've
taken themselves out of a few more games after knowing how their lives would end, do you know what they
would've
said? They probably
would've
said no. They probably would have said they'd do things the same way. How is that not a disgusting thought?
It all comes down to the fact that the culture in pro football needs to change. It's not going to happen overnight, and it probably won't even happen over the course a generation. But after what has happened to Duerson and Seau, Goodell was completely right to come down on the Saints like he has. These things are clearly connected, and if you don't see it, then your love of the NFL has blinded you. Believe me, I love football just as much as the next guy and I'll continue to watch it every single weekend for the rest of my life. My mood for the coming week will depend on what the Packers do on Sundays. I can't say I'll live and die by what happens, though, because I won't. The sobering fact, however, is that some of the players might. There's no way I'll be able to see a big hit again and not think of what the long term consequences for it are going to be. There's no way I'm going to be able to watch the games the same way anymore. Football has changed for me over the course of the last year or so. I love it, but not as much. And that's probably a good thing.